Unfortunately our house sale fell through in October, so the holiday let is now open for business again. We hope to see you soon.

18 July 2014
Fantastic house, amazing views. This house is a credit to Paul and Barbara! Thank you for a wonderful holiday, we all loved every bit of it and would love to come again. Was the ideal location for my 40th surprise birthday week away! P.S Goodby Dill, we will miss you very much.

27th June 2014
We have had a fabulous week of rest and relaxation. Topped off with the beautiful weather. Sophie has made a new friend in Dill. We found some lovely flat walks along the canal paths, the best being at Walsden, ending at 'Grandma Pollards' for fish and chips.

9th June 2014
Just what the doctor ordered. A beautiful house with all the comforts of home. The scenery is wonderful, watching the different moods of the weather and great for photos.P.S. A pat for Dill.

2nd June 2014
We are a party of 7 people who have spent a fantastic weekend away at Whiteley Royd. We have been to the Yorkshire Dales a few times before and love the area so much that we decided to spend Grandmother's 80th birthday here so all the family can relax and spend quality time together. I can honestly say that we have enjoyed every minute in this beautiful cottage. As we live in Birmingham, we have thoroughly enjoyed the spectacular landscape views you wake up to every morning. We would recommend a few areas to visit, Grassington, Harrogate, Hebden Bridge and Haworth. There are plenty of tourist attraction areas. The fish and chippy, just 5 minutes drive down the hill to Todmorden is delicous. We will definately be returning to the cosy cottage. P.S. The games room is fantastic is you are up for a laugh

30th May 2014
Never say never again! Visit number 5 for us! Sadly the weather was pretty poor - but it didn't stop us getting out and about. A return trip to The National Media Museum in Bradford was a big hit with the boys, as was the Todmorden Toy and Model Museum and Toy Shop. Sadly it upset Mummy and Daddy to find things from their own childhoods in both these 'museums'!! An obligatory trip to Haworth and a trip further afield to Harlow Carr RHS Gardens near Harrogate were both managed on dry and warm days. This house is so lovely though it doesn't really matter if the weather is lousy. One wet morning we had an epic Scrabble match. Wag was missed, but Dill was lovely - if a bit more boistrous. Thanks again Paul and Barbara for another lovely stay. Maybe see you again soon....?!

30th May 2014 - from Nicholas
Dear Paul and Barbara, thanks for another great stay. We really like it here! It is really fun. On Tuesday we went to Harlow Carr, I really liked Betty's Tea Shop. On Wednesday we went to the Media Museum. My favourite bit was the games room, my favourite game was pac-man. Thanks again.

18th April 2014
This is one of the nicest cottages we have stayed in. The location is beautiful as long as you don't mind the single track roads and have a suitable car. The train station in Todmorden is a great way to get into Manchester so you get the benefit of the countryside and city life in one break. The house furnishings are of a high standard, loved the sauna especially after long hikes in the hills. Also very dog friendly, our dog Piper enjoyed playing with the owners dog and relaxing by the real fire. Left feeling very relaxed.

11th April 2014
Barbara and Paul, we would like to thank you so much for allowing us to stay in your most beautiful home. We have all had a wonderful relaxing week. Having stayed at many self catering properties over many years, this home is definately one of the best, we have not had to want for anything. Thank you for the welcome pack.

4th April 2014
Our stay at this cottage was wonderful. The attention to detail with everything was exceptional. The surroundings and views from the cottage were simply quite beautiful. Barbara and Paul should feel very proud of this well looked after, superbly equipped accommodation. We shall without doubt return as we feel there is far more to see and explore in the area. We would highly recommend a stay here, it is worth more than 5 stars if you could give it. Well done and many thanks.

28th March 2014
We have had a relaxing weekend break to celebrate a special birthday. We loved Hebden Bridge with all its independent shops. House very comfortable. Thanks for the welcome pack. Its a shame it was so misty all the time so we didn't get all the wonderful views.

14th March 2014
We have had a lovely 3 night stay in your beautiful house. Had a lovely day in Haworth and a very relaxing stay. Many thanks.

21st February 2014
Came here for a relaxing stay and that's what we got, thank you.

19th January 2014
Lovely home, thank you, very relaxing weekend with everything you could need or want. Hopt to vist again!

13th January 2014
Thank you for a lovely weekend in your beautiful home. It has been the perfect 23rd birthday! Everyone has enjoyed the stay, shame it wasn't longer. We'd love to come back in the future. Many thanks.
Jenny and Alex from Sarah's party even drew us a lovely picture of one of our ornaments!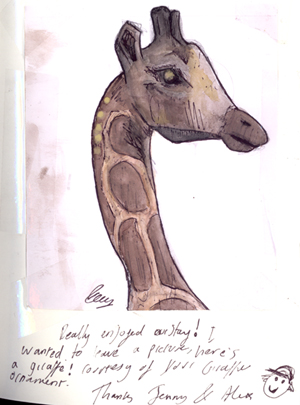 20th-27th December 2013
FIVE STAR PLUS!
Thank you both very much indeed for your warm welcome to this beautiful home. We have had a marvellous week, enjoying the warmth and comfort inside with some strong winds howling and rain lashing down outside at times! It was wonderful to host a family party for a diamand wedding anniversary and everyone agreed the perfect setting helped to make it a perfect occasion. We hope to visit again before you move.
PS. We can't decide which luxury of the many we will miss most of all....the stunning views, the comfy beds, "fizzy delicious" and welcome pack on arrival, so many deep sofas for relaxing, but the winner is...being able to have a sauna "at home" on Christmas morning! x

16th December 2013
Many thanks for a wonderful 3 day stay. Could not have asked for anything better. What a beautiful home. The Christmas Tree was a lovely touch.

8th December 2013
What a truly wonderful house and place to stay. Your holiday home far exceeded all expectations and we are grateful to you for allowing us to share the remarkable place.

17th November 2013
Thankyou for sharing this beautiful home with us. Everyone has had a fantastic weekend and we look forward to returning in the near future.

1st November 2013
Thank you very much for a lovely, quiet and peaceful stay. As a family we came to celebrate Diwali and have had such a lovely time. Thanks for everything.

From Trip Advisor
"What you see is what you get." Family break , 6 adults and Ted the dog. Whiteley Royd Farm ticked all the boxes and we stayed a week. Accommodation cannot be faulted - nice style everything you need to a high standard. Once settled in you feel comfy , home from home. The cottage is great for a base to explore the surrounding area or just stay put and chill out . We cooked breakfasts each morning and for a very small charge you can collect freshly laid eggs . Barbara & Paul are welcoming , will leave you be, but are at hand if you need anything. The cottage really does offer great views ,very peaceful in a beautiful position . We had mixed weather sunny , foggy, light rain etc.. but to watch the change in the weather over the valley was an experience in itself. There are a number of walks straight from the front door , all types long, short whatever you wished via natural springs , farmer fields etc.. and with no one else in sight. The drive to the cottage via the tight rugged lanes are a challenge but for us that was part of the holiday experience. It's close to both Hebden Bridge, Todmorden & Sowerby Bridge and you will find many of the places are Dog friendly. Hardwick Crags in Hebden Bridge, is a very nice walk . Without question would recommend the property for both short weekend and longer stays.
The Tanners, London, October 2013

29th August 2013
We had a lovely week in the cottage. It was a perfect place to stay and spend some time together. We all walked up to Stoodley Pike and had a lovely picnic and chat up there. Poppy our dog thought she had died and gone to heaven as she is a city dog! It was such a calm and comfortable place to stay and we are all thoroughly reste, thank you very much!

23rd August 2013
We have had a lovely stay at your cottage this week and we enjoyed feeding the animals, the fresh eggs were a bonus! Thanks for having us. br>
15th August 2013
Dear Barbara, Paul and Wag! Thank you for a beautiful week. It is such a wonderful place, so calm and peaceful. Ted (our dog) loved Wag, I think he has made a long life friend. We were very lucky with the weather and went on some beautiful walks - Gaddings Dam, Stoodley Pike - lots of miles walked and then to dog friendly pubs for a pint of refreshing local ale.

Wonderfully equipped cottage. I hope we were not to loud. All slept like babies including Ted. Again many thanks, we would love to come back!!


9th August 2013
We've had a great week - loved the view, the house, Wag and the area. Thank you!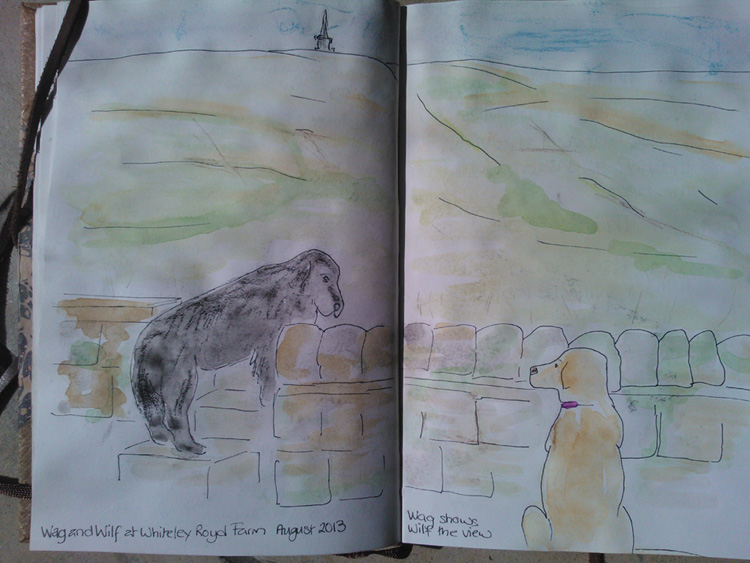 2nd August 2013
Our 4th visit and sadly probably our last. Once again we seem to have brought extremes of weather upon us with a terrific news-making storm on Monday - thunder, lightening, torrential rain and flooding down in the valley. Ted Hughes "Moors" said..."Moors are a stage for the performance of heaven. Any audience is incidental." That's certainly how it felt! To be honest the weather was a relief after the hot, humid weeks we had just left behind and certainly didn't spoil our stay.
Visits this time included Haworth (naturally), the steam railway, a rainy day trip to Leeds (Royal Armouries), a lovely wander around the Yorkshire Sculpture Park and a pleasant afternoon at Pendle Heritage Centre at Barrowford. Mostly though, this visit was about family, friends and a lovely relaxing time. The cottage, as ever was perfect and Paul and Barbara lovely hosts (even if Paul did deprive us of TV for a day by 'pruning' the cable! This has really become a home from home and we are really going to miss it, but we wish you all the very best>
From Trip Advisor
"Superb Pet Friendly accommodation" We found this place by searching for pet friendly cottages on the internet and saw it on the Sykes Cottages website. However, like one of the other reviewers, contacting the owners, Barbara & Paul direct, we saved over £50 on the price Sykes wanted. We had a 3 night stay, Fri-Monday, at a cost of £572. Five adults and our dog. Barry. The accommodation has been reviewed in detail by others, so I will not repeat it, other than to say the accommodation cannot be faulted. We were lucky that we had hot sunny weather over the weekend, so were able to make full use of sitting out on the patio, enjoying the simply splendid views for mile after mile, very peaceful. We only had cooked breakfasts each morning at the cottage, the rest of our meals were taken in he surrounding towns, in pet friendly places, (White Lion and Staff of life were good). Also worth a mention is Hardwick Crags in Hebden Bridge, a nice, pleasant walk. All in all a very pleasant place to stay, whether to use as a base to explore the surrounding area or just stay put and chill out.
stephen j, Doncaster, United Kingdom, July 2013
12 July 2013
Thanks for a wonderful week. The house was perfect, all little luxuries catered for and so very comfortable. Your kind hospitality has been very much appreciated. We have enjoyed the stunning views and local countryside which is irresistable and called for many long walks to Stoodley Pike, Hardcastle Crags and Lumb Falls to name but a few. Its very hard to leave.... All our best to you both, Wag and the cats....
26 June 2013
Great house, well catered. Thanks for the welcome pack, its nice to receive those special little touches which make the stay perfect. The amount of times we have turned up at a holiday rental and they don't even have salt is more than you would think. So well done, we could not have suggested anything that would have made our stay better.
June 2013
Excellent stay thanks for an enjoyable break away from the "rat race" - peace and quiet. Hope to re-visit in the future to enjoy all the local facilities and pubs!!
From Trip Advisor....
"Spacious, extremely comfortable in beautiful surroundings"
*****Reviewed 21 May 2013 for a stay in May 2013
We travelled all the way from South Africa to surprise our children's Nanna for her 70th birthday, but because we are a large family and used to space, we really needed our own place to stay. Whiteley Royd Farm ticked all the boxes and we stayed a week.
It's close to both Hebden Bridge, Todmorden & Sowerby Bridge for us to visit the family passing through beautiful windy roads and English countryside. A games room and snug with Playstation for the children as well as a highchair and camper cot were provided. A HUGE fantastically stocked kitchen (complete with cookery books) and stunning outdoor area with fabulous views for meals although the weather didn't play along, so we ate indoors at a perfectly sized dining table. Really comfortable lounge attached with deep couches, TV & fireplace as well as millions of books, magazines and games. There is wifi access, but it is very unpredictable and perhaps that's a good things forcing one to switch off.
Barbara & Paul greeted us with freshly baked bread, eggs from the farm, a lovely bottle of bubbles, milk & butter. They provided us with dishwashing liquid, tablets, washing powder, fresh clean cloths as well as a completely spotless cottage (including the plates, glasses, pots & pans). The beds were super comfortable, the central heating a huge bonus in the increment weather and we can honestly highly recommend the property for both short weekend and longer stays.
Thank you so much for making our stay SUCH a pleasant one.
*****Ease of booking *****Directions to the property
*****Key pickup/access to the property *****Overall condition
*****Quality of bedding/mattresses *****Kitchen/utensils quality
*****Cleanliness of bathroom *****Quality of facilities/amenities
*****Service
Liked best: The space
Liked least: Fridge noise
Travelling group: Young Children
Would I recommend this holiday rental to my best friend? Yes.
Recommended for: Friends getaway Older travelers
Families with young children Large groups
People with pets
The property was "as advertised".
I recommend the location.
The property was a good value for the price paid.
The property provided wifi/internet access.
19.05.13
Thank you for this wonderful house and location. We felt so fortunate to have the opportunity to stay here and to share in this beautiful countryside. Perfect location for our family get together and 85th birthday celebrations. The weather and BBQ just made it too - so lucky! All the best. P.S. Love to visit again!
06.05.13
We've enjoyed a really relaxing break. The house is done out beautifully with quality furnishings and really comfy. My son was thrilled with the games room which gave us a break! We enjoyed lovely meals at The Bear in Todmorden and Greens in Hebden Bridge (both vegetarian). Many thanks Barbara, Paul, Wag, the cats and the chickens.
29.4.13
Lovely cottage. Great views. Smashing beds. Good walks. Interesting Roads! Ate and drank too much!
19.4.13
Thank you so much Barbara and Paul!!! We've had such a great stay since January/February. Made a wonderfully comfortable and homely base to come back to after working hard shooting the film. We'll be sad to leave. All the best x.
Thank you so much for a wonderful stay, it was the perfect retreat during the film - January - April. I hope to be back soon!
22.2.13
Wonderful holiday with all the family in a stunning setting. The house has all the makings of being a perfect home from home, albeit a big improvement on our own. The children loved Wag's sneaky visits. Well situated for day trips to York, Bolton Abbey and more locally. The weather has been amazing for this time of the year. So sorry we won't be able to visit again once Barbara and Paul move in, but you never know we might just turn up! Best wishes for the future.
20.1.13
We had extended stays during the winter months. Warm, cosy house and very well equipped. Great walking country on the doorstep. Lots of small towns within easy reach for day trips - Holmfirth, Haworth, Ilkley, Skipton, Clitheroe and Harrogate to name but a few. Manchester and Leeds if you want a big city (and not forgetting Hebden Bridge and Todmorden which are both 5-10 minutes drive away. Thanks for a lovely stay.
28.12.12
What a fabulous place you have here! We have managed to have a very relaxing and cosy Christmas, despite it being a very sad time for our family this year. The kitchen is perfect for large scale catering - even for a massive family Christmas dinner, beds are really comfy, sauna a luxurious touch which we enjoyed and the little games/tv snug room is perfect for the kids. The house is perfectly decorated and very tasteful and homely. Its been a great base for us to enjoy Christmas and we are very reluctant to leave the stunning view behind. We hope we'll be able to return soon for a break when the sun shines a little bit more!
9.11.12
It's certainly got the 'wow' factor. What an absolutely fantastic 'Dream Cottage', the best one ever and we go away four times a year. Fabulous views, brilliant accommodation, everything you need to make it the best. Thank you so much for allowing us to share this wonderful cottage for a week.
2.11.12
What a wonderful view, almost as good as the Lakes! (but that is where we are from). It was such a pity that the weather wasn't better, but it was great for kite flying when it wasn't raining.
Paul and Barbara are lovely people and nothing is too much, the welcome pack was very much appreciated. Once again, due to the bad weather, it was a pity that we were unable to try Paul's instructions (kindly written on the map corner) to walk to Stoodley Pike from here. (Maybe someone else will be able to try out the instructions and let him know if they work!!).
Wag, what can we say, what an asset to the house, seeing him every morning and when you return in the evening is a delight, he is so friendly. The only downside was the roads, but how can you have such lovely views without narrow roads.
19.10.12
We managed to find it without a telephone call! Great location and views. Good walking. Followed the Stanza Stones trail in part - not too muddy. The accommodation was excellent. All in all, a good spot.
15.10.12
We have had a fantastic weekend in your wonderful house - all we had hoped and more.
5.10.12
What a wonderful barn conversion and what a view (even if the weather was a little 'moist')! Hebden Bridge is a delight and enjoyed walking along the canal, peering at the permanent moorings. Spoiled for choice for places to eat (in spite of closures because of flood damage).
Took in Yorkshire Sculpture Park in the journey down from Scotland and it certainly is an international attraction, as is Saltaire.
Inside the cottage we revelled in the luxury kitchen and all the appliances, the underfloor heating and so on and so on. All in all, amazing accommodation and warm welcome from everyone we met. Very taken with the
Black Sheep beer. We played some very bad table tennis in between exploring and reading. Many thanks from all four of us.
28.9.12
In reverse order...
...Great Spotted Woodpecker, a regular visitor to the bird feeder
...Lumb Hole Waterfall, not much further on from Hardcastle Crags
...Amazing views from here and all the valley tops
...Saltaire (we drove back via Keighley to avoid getting lost in Bradford!
...Hollingworth Lake at Littleborough, very pretty flat walk around the lake
...Everyone we met has been friendly
All in all, a great holiday in a gorgeous cottage. The sauna and table tennis were good fun too. Thankyou.
14.9.12
Top marks to Barbara and Paul for letting out such a perfectly kept home. The beds are so comfortable and the sauna is an ideal boys toy! The perfect place for a family to meet up and enjoy such gorgeous views, towns and surroundings. The welcome pack is a welcome touch. We would certainly highly recommend a visit to anybody wanting to stay in this area as the farm has everything you need. Thank you!
10.9.12
We had a memorable week. Our daughter married in Gibson Mill and we had the wedding party in the Town Hall in Hebden Bridge.Thanks to your house the pictures of the bridal couple taken here, must be amazing.We were extremely lucky with the weather, it was sunny, warm almost mediterranean. We loved Wag! He is really well behaved and does not enter the house. The house is really wonderful, nice beds (which is really important) and we appreciated the large kitchen. Barbara thanks for give me a crochet needle for the wedding dress!
3.9.12
A lovely relaxing weekend in a perfect place to stay, we just wish we could have stayed longer! Great to have a sofa per couple and such comfortable bedrooms. An excellent, very well equipped cottage. Thank you very much.
31.8.12
Our third visit to Whiteley Royd Farm. It really has become home from home now and we have had some wonderful visits. This trip's highlights were Antony Gormley's 'Men' on Crosby Beach, the National Railway Museum in York and lots of windy walks locally around Haworth and over in Saddleworth. The boys have had great fun, as ever, running around outside with Wag and the play barn and the play station. Thank you Barbara and Paul for your hospitality on every visit and for sharing your lovely home with us, we really are sorry to leave.
24.8.12
It's been a wonderful week here in Hebden to see our best friends and with a perfect place to stay. We will have so many happy memories, especially watching our little boys so happy playing outside all day long, rain or shine.
10.8.12
Have all enjoyed a relaxing and very special week in this lovely cottage. Thanks for the welcome pack and everything to make this holiday one to remember. The wonderful views, the peace and quiet, the snug, the games room and of course Wag, what a lovely boy. Unfortunately its time to go home. So much more to see and do, a week isn't long enough.
20.7.12
Absolutely wonderful home from home with everything we could need for a fantastic weeks holiday. Kids loved the games room, the snug and Wag. We loved everything...the weather might have been a bit kinder but it didn't put us off. High point of the holiday was kayacking at Hollingworth Lake. Eating breakfast including fresh eggs on the patio enjoying the views takes some beating. All in all a fantastic, relaxing break in the best holiday accommodation we have ever stayed in. Full marks to Paul and Barbara for thinking of everything from the welcome pack to the information folders. We'll certainly recommend Whiteley Royd to friends and family.
22.6.12
Had a lovely stay here, lots of interesting places to visit, lovely walks and fabulous scenery. Enjoyed the Keighley Valley Light Railway, Bolton Abbey, great for family picnic and Haworth, full of history and very picturesque. We enjoyed the very scenic and quiet road from Heptonstall to Nelson. Ribbleshead viaduct was impressive, would like to return one day to go on the Settle to Carlisle Railway on a steam train.
15.6.12
As I had hoped, this was the perfect "away from it all" venue for my 50th birthday celebrations with family and friends. Thank you Barbara and Paul for your help in organising my little "surprises". None of us wanted to leave - a week isn't long enough.
8.6.12
We had a wonderful time. We thank you very much for letting us stay here. The "snug" was cool and it kept us very happy when it was raining and was a perfect get-away from the adults! Even though the British weather wasn't at its best, we still got out to enjoy the surrounding area. We love Wag!
1.6.12
WOW!!! What a fantastic base for our holiday. We had a very relaxing week celebrating a "60 something" birthday and a Ruby Wedding! Thank you for our welcome pack, it was very much appreciated. We definitely hope to return, please give Wag a goodbye pat from us, we all think he is a lovely, gentle soul.
We second that. Stunning views and an extremely comfortable cottage with all mod cons. The games room was an added bonus, before we return we'll need to get in some practice. Joey and Chandler eat your hearts out!!! Hens, your eggs are delicious, well done! Barbara and Paul thank you for making us feel so welcome.
24.5.12
Thank you for a quiet peaceful week in a comfortable cottage in a lovely area of Yorkshire.
18.5.12
Simply a great place! Thank you.
4.5.12
We have had a brilliant time despite the awful weather. The accommodation is perfect, with all mod cons. Everything has been thought of. Most importantly it was cosy and relaxing. The games room was great fun and the swivelling TV was awesome! Thank you Barbara and Paul, we will certainly recommend this place to our friends.
23.4.12
We have all enjoyed the stay here. The cottage is lovely, couldn't fault a thing. The welcome pack was a nice touch..the teabags came in handy. Great place to spend a bit of quality time with friends, would definitely like to stay here again.
13.4.12
What a wonderful place to have spent a week. Mixed weather is no problem when you have the delights of the welcome pack, the log fire and the patio for moments in the sun!! The 'youngsters' of the family loved the games room and we can't wait to return for even more walks from the door! Many, many thanks for all the extras that really do make such a difference. Will miss Wag's visits and looking forward to returning.
6.4.12
Wind by Ted Hughes
This house has been far out at sea all night
The woods crashing through darkness, the booming hills
Winds stamping the fields under the window
Floundering black astride and blinding wet
Till day rose.....
...We watched the fire blazing
And feel the roots of the house move, but sit on
Seeing the window tremble to come in
Hearing the stones cry out under the horizons
Well I was wondering how to describing the defining thing of our visit this week, but decided Ted Hughes could put it far better. This was our return visit and though we expected the weather would not be quite so kind as last week, we weren't quite prepared for 'the storm'!! After a good couple of days (Pendle Hill in the sunshine, Todmorden Park with the kids, strolling around Hebden and a trip to Shibden Park and the National Media Museum), the weather began to close in late on Tuesday.
David had gone to a football match at Burnley in the evening and as the wind picked up and the snow began to fall I began to wonder if I'd see him again! Fortunately he made it back before the snow began in earnest but we were in for quite a night. The wind howled, the snow was horizontal and as bad as I can remember. Wednesday morning the wind still howled and the snow was still drifting and we settled for a cozy afternoon with the fire. This cottage is so well kitted out, it was no hardship to bolt the door against the elements as we had everything that we needed. By the evening the sun was poking through the clouds and by Thursday most of the snow was melting away and we were back in Hebden with no coats on. Amazing!! The kids found it so exciting, if anything it added to our visit.
Otherwise we can only echo everyone else. We love this place. Barbara and Paul are friendly and helpful. Wag is adorable and the eggs are delicious. We hope to be back soon, maybe we'd better bring our sledges!
30.3.12
Had a wonderful week in a beautiful and well appointed cottage. Basking in amazing sunshine. Enjoyed exploring the local area and look forward to a return visit. Many thanks for the lovely eggs!
23.3.12
What a fabulous place, so comfortable and well equipped! We've had a wonderful week here, in exceptionally good weather. Went for several walks, one of them to Stoodley Pike (nice lunch and a pint at the Top Brinks afterwards). We couldn't recommend the farm too highly and hope to return next year.
8.3.12
What a lovely place to stay! Watching the sunrise on that first morning, over the patchwork landscape, brought tears to my eyes. A memory lane moment was walking on the moors for the first time in almost 40 years. Great place with wonderful views. Thanks a lot for the bubbly. Batteries are now fully charged, everyone chilled. Hope one day we can return. Thank you for letting us stay in you lovely holiday home.
5.3.12
Lovely stay, very well equipped cottage. Weather only kind to us on the last day!
24.2.12
Had a lovely stay in your cottage. Really chilled out and lovely views. Welcome tray was really nice. Games room was great we used it a lot. Thanks so much.
17.2.12
We have enjoyed a very comfortable stay in a beautiful and well equipped home. Thank you very much. We enjoyed an icy walk to May's Farm Shop which sells most things. The views towards Stoodley Pike are beautiful. We enjoyed the quietness and isolation.
6.2.12
Despite the snow we had a fabulous time. The views are stunning and the house kept us occupied when we couldn't go out.
23.1.12
5 lady walkers have had the most fabulous long weekend. The accommodation was fantastic, the views to die for and more importantly, the best bath ever!! Thanks for the welcome pack, the fizz was gorgeous. Cannot fault anything. We will be back.
5.1.12
We have had the most relaxing New Year in your beautiful house! Currently living in Japan we miss scenery like the ones we have been spoilt with this weekend. Our friends from Canada, Australia, American and Japan were also very impressed. I'm glad they got to see Yorkshire before they headed down to London! Thank you for making us feel so welcome, from the newly weds!
29.12.11
The layout and space for the cottage was marvellous as it meant that two families/ groups had seperate sleeping areas but communal living together. Warm and welcoming, including christmas tree and decorations. Very comfortable beds and the snug was a huge hit with the kids.
20.12.11
We have had a really lovely and relaxing stay here with all the creature comforts you need! We loved the log fire! Thanks for the welcome pack which was really appreciated when we arrived. A great place we hope to return soon! Thanks again and we loved Wag.
9.12.11
Great tobogganing above the Packhorse Inn and built a 6ft snowman. Good fire to warm us at the inn. Highly recommend May's local farm store and the meat from Staups Lea Farm at the top of the drive. Lovely warm weekend in such a well equipped barn.
21.11.11
Beautiful place with all the lovely home comforts of home. We've had a wonderful time, really relaxing and particularly enjoyed the open fire on the chilly evenings. Hoping to come again next year.
18.11.11
The welcome tray was very much appreciated. We all fell in love with Wag especially Mollie and we loved having visits from the chickens every morning. We have thoroughly enjoyed staying here, it was more wonderful than we had hoped for and we shall recommend to friends and family. It has been a very difficult year for us and this has been just what the doctor ordered. Many many thanks.
11.11.11
Whiteley Royd Farm is an absolute gem! The photos of the farm on-line assured us that we had made a good choice, but the photos just don't prepare you for the beauty and homeliness of the farm.
Nothing has been forgotten - we have never stayed anywhere so perfectly equipped. Harry loves 'the snug'! The welcome tray was a really lovely thought, especially loved the personalised wine and fabulous eggs. Kids loved the bread!
We came to relax and recuperate from the stresses of life....we don't want to leave. But at least we feel ready to face the world again. Thank you for an amazing week.
From Trip Advisor.....
"Perfect place to chill in 5* luxury accommodation."
*****Reviewed 10 November 2011 for a stay in November 2011
I found this accommodation originally on the Sykes cottages website, but then found details on the web so that I could book direct with the owners saving the £35 booking fee with Sykes. The owners were fantastically helpful right from the very first contact, answering every question and always keeping me in contact with when they had received the payments that I had sent. The booking process was absolutely hitch free and couldn't have been easier with the owners being happy to bend over backwards to accommodate any requests that we had.
The photos for the property were absolutely lovely but when we arrived nothing prepared me for just how beautifully this house had been decorated out. We have stayed in some lovely cottages but none have had the finishing touches that Whiteley Royd Farmhouse had which made it a perfect home from home - it truly felt like home. Everything was spotlessly clean so we didn't have to worry about washing things before we used them which has happened at other places we have stayed in the past. The beds were extremely comfortable and huge!!! Sauna was a lovely luxury touch which was really enjoyable too. Our 10 year old decided he wanted to sleep in the snug which has PS3 and plenty of games to keep the kids amused. It was really nice that they had somewhere to chill out themselves while we got stuck into a good read. Another lovely touch was the games room with table tennis, table football and darts - we all thoroughly enjoyed letting our hair down and having some fun together. The kitchen was equipped to an amazingly high standard - nothing had been forgotten. Our teens enjoyed the fact that they had the two downstairs bedrooms and parents were upstairs which afforded them some privacy from us, and us from them - having their own bathroom was a great bonus too. We brought books with us to read as we knew that this would be a wonderful place to chill with a good read, however there is a plentiful supply of riveting reads, a selection of dvd's and games for the playstation. Being so well equipped (including towels) meant that we could travel extremely light and didn't have loads and loads to pack up. The owners provided a welcome tray which included a 'Whiteley Royd Farm' bottle of wine and freshly laid eggs from the chickens and a fresh loaf of bread - which was a lovely touch.
In short, this is a wonderful gem of a place to stay - open fire, sauna, first class furnishings, home from home, fantastic views, beautiful area - there is nothing not to like about this accommodation and I would highly recommend it to anyone.
*****Ease of booking *****Directions to the property
*****Key pickup/access to the property *****Overall condition
*****Quality of bedding/mattresses *****Kitchen/utensils quality
*****Cleanliness of bathroom *****Quality of facilities/amenities
*****Service
Liked best: Standard of fixtures, fittings and furnishings
Liked least: Nothing not to like!!
Travelling group: Family with Teenagers
My age: 35-49
Would I recommend this holiday rental to my best friend? Yes.
Recommended for: Friends getaway People with disabilities
Older travelers Families with young children
The property was "as advertised".
I recommend the location.
The property was a good value for the price paid.
The property provided wifi/internet access.
4.11.11.
We came to chill and relax and boy did we do that. Watched the weather change the views. Had to go out twice for food. Going home totally chilled. Thanks.
28.10.11
Whiteley Royd Farm was a beautiful place to stay and we were very lucky to have such lovely weather. Our welcome was even warmer than we could hope and the cottage was so relaxing and peaceful that we almost didn't go anywhere. We loved the view and the frequent visits from Wag, the cats, the birds and the chickens. It was a scary journey up the hill to the farm, but was more than worth it and we'd very much like to come back and stay again soon. Thanks for making our holiday so special.
What a wonderful place to stay; full of luxury, personal touches and a view to die for! We'll all be sad to go home. Back to reality all too soon. Wag came round to say goodbye a while ago... I may sneak out later and dognap him! ;-)
21.10.11
We loved staying at Whiteley Royd for the week. The house is beautiful and has everything you need and more. The views are amazing and we have been lucky enough to have lovely weather. We hope to return to this beautiful little unspoilt part of the country. Thank you very much.
Many thanks from the Ramsay family for a great stay at Whiteley Royd, the cottage is fantastic and every bit as good as we hoped it would be, it is a wonderful place to relax and take things easy and the level of comfort is second to none. We will be back!
14.10.11
I think we must have picked the wettest week of the year so far. Have only had a few glimpses of Stoodley Pike through the mist and rain.
We have had a profitable week researching ancestry in Rishworth and visiting old haunts when evacuated to Sowerby Bridge as a child in WW2. Have managed a couple of longer walks, including Blackstone Edge and Todmorden canalside.
If you enjoyed the cobbled streets of Haworth, Heptonstall is definitely worth a look - fewer tourists and more a sense of the past. If driving go down not up! Coming back to a warm and comfortable cottage was a welcome respite from the dreary outside. Many thanks.
7.10.11
Six old (no young) ladies from Leek Staffs walked to Stoodley Pike, Hebden Bridge and Hardcastle Crags. The accommodation, views and walks were superb, aided by the occasional visits to a tea shop or two. Loved it and hope to visit again.
3.10.11
We have had a fab week in the beautiful barn. Everything was perfect including the weather, even hotter than July. Wag and the cats are lovely, we definitely want to return.
26.09.11
We were looking for a memorable, well-appointed, relaxing and wheelchair friendly place to take my disabled sister in law, who is seriously ill. Whiteley Royd Farm ticked all the boxes and a lot more besides, and gave us a terrific weekend. Some weekends seem to last for years; this one has flashed by far too quickly. The cottage was far better than we could have hoped, the views are breathtaking, our new friend Wag was always here to welcome us and a cock pheasant joined us every day for breakfast. Sadly we have to drive back to boring Worthing now, we MUST come back. Thank you.
23.09.11
We have had a great time and thank you for making us feel very welcome, will definitely recommend you to friends and family.
16.09.11
Whiteley Royd Farm was very comfortable and cosy. Home from home. The Welcome Tray was excellent and much appreciated. The scenery was quite spectacular! After surviving the storm we had a very relaxing holiday. Just what the doctor ordered!!
09.09.11
Thank you so much for the wonderful stay - it has been very relaxing in a beautiful location. Well what a week! Weather not been great, but managed to get out in between rainclouds and explore - its still so beautiful. Impressed with the sauna, feel very relaxed now 100%. Will definitely be coming back soon.
We enjoyed our stay, the views from the cottage are amazing and the local area very scenic too. Lots of lovely walks, shame the weather hasn't been good, but can't expect you to provide sunshine as well. Cottage is beautiful, but didn't quite make it up to the pike, maybe next time.
02.09.11
Thank you for a marvellous holiday. I have seldom been more reluctant to leave a place! The cottage is an absolute credit to you - beautifully appointed and really comfortable, and that view....you could waste your entire life just watching the changing moods of the moorland.
Lots of great things to do - we enjoyed Hardcastle Crags, a day out round Haworth and the steam railway. Shopping in Hebden Bridge and visiting the wonderful Singing Ringing Tree in Burnley. Weather could have been better, but meant lots of wuthering windy walks! Not to mention a cheery bark and friendly greeting every day from Wag! Can we sneak him into the boot?!
The only disappointment is that you're so booked up we won't be able to come back for a while! Thanks again.
02.09.11
Thank you for letting us stay here. We had a wonderful time with lots of walks and drives in the hills and yesterday we went on the steam train. Wag was always here to say hello when we got home. Love from Nicholas (6).
26.08.11
We enjoyed the quiet week and all the experiences we had. We took no long hikes, but I enjoyed morning walks. We are having a great time in the UK and are reminded daily that we are not in Oregon anymore. The house was beautiful, fully deserving of 5 stars.
12.08.11
Just to say, we have enjoyed our stay, had a wonderful holiday in every way, hope to come back another day.
We have really enjoyed staying here. The house is very comfortable and the views are wonderful.
24.07.11
The whole family had a fantastic week here. Wonderful accommodation, great views and a lovely area. Plenty to keep the kids occupied - games room, playstation 2 with loads of games and board games for everyone to play. Barbara and Paul have thought of everything, including listing their recommendations for restaurants nearby, which helped us to find a lovely place to have a celebratory meal for my graduation. I would highly recommend it :) thank you.
22.07.11
We have had a lovely holiday in a super cottage with amazing views. When my son came up he said, "When can we move in!" says it all. Barbara and Paul are excellent hosts and have ensured that everything you could possibly want or need is here. Thank you.
18.07.11
We have just spent the most wonderful week at Whiteley Royd Farm. Barbara and Paul have worked hard to gain the well deserved 5 star rating. The accommodation was very spacious and tastefully decorated, amazing views, and equipped with everything you could possibly need for a weeks holiday. We loved it!
15.07.11
We have had a wonderful time here. Everything has been perfect - the cottage has all we needed and more! - the location and views are just wonderful. Wish we could have stayed longer...
8.07.11
A most happy place to be at the age of 84, had a wonderful time. Lovely family holiday, many happy days, gorgeous weather - we could have been in Tuscany! Lots of lovely walks - we'll be back.
4.06.11
Thank you ever so much for letting us stay at Whiteley Royd! We've had loads of fun and the house and surrounding area is beautiful. I particularly enjoyed the ice dispenser in the fridge, the table tennis equipment and staying in my adorable little 'snug' which was like a teenage girl's dream. It was cozy and comfortable like a den.
We also had fun walking to Stoodley Pike and trying to spot the house from there (which we did). One evening when the weather was lovely, I sat up on Great Rock with my ukulele. It was beautiful, the view is spectacular from up there and its so tranquil. We've had a fantastic stay thank you again for giving us the privelege of having Whiteley Royd as our home for one week. Shona (aged 14).
29.05.11
Thank you Paul and Barbara for letting us take over your beautiful corner of the world for our special day. All our guests were very impressed and thought the location showcased Yorkshire perfectly. A beautiful house in a beautiful setting. Perfect!
26.04.11
What a great place - fabulous views and so comfortable and well equipped, with a great welcome. We'll recommend you to friends and family and hope to come again soon - please lay on the same good weather next time!
22.04.11
Fabulous location, beautifully furnished and friendly hosts. The weather Gods were smiling, making our stay just perfect. Thank you Paul and Barbara it doesn't get much better than this.
Thanks for such a lovely stay. I have had a great time petting Wag and the cats. I have also been watching the chickens go about their business. It has been greatly amusing. Thank you again.
28.03.11
A very pleasant stay in your lovely comfortable farm. Fantastic scenery, weather perfect. Our grand children have loved Wag, hens and the trampolene.
13.03.11
I am sitting writing this just as dawn is breaking on a very cold morning. To look at this wonderful view - it takes your breath away. Thank you Barbara and Paul, I will certainly recommend you to my friends.
08.03.11
A wonderful place, great views, Barbara and Paul were lovely. Sauna was ace. We'll be back x
28.02.11
A few days in Whiteley Royd Farm was just perfect! Wonderful moors, a visit to Haworth, Hebden Bridge, shopping in Manchester, Wigan v Manchester United game - but first of all a beautiful, luxurious house with a great little sauna! We will be recommending the farm to all our friends and we will return. Thanks for an awsome stay. With love a family from Helsinki, Finland.
21.02.11
An excellent and fantastic house with every thing you could ever need, beautifully situated, comfortable, luxurious and quiet. You were superb hosts and we will be recommending Whiteley Royd Farm to all our friends. Many thanks and we hope to return sometime.
12.02.11
Thanks for a top week. We loved staying here. We will stay here again hopefully. Paul and Barbara were great hosts. A wonderful place. Thanks so much.
4.1.11
Just returned home after spending a week at Whiteley Royd Farm. The photos don't do it justice. Had a smashing week, totally relaxing. The owners, Paul and Barbara couldn't have been more helpful, supplying extra logs for the fire, giving directions (and the loan of an OS map) so the boys could do a walk. They also allowed a late departure as new visitors were not arriving on the same day.
The views are stunning. The cottage is equipped with everything you could possibly need, the super king beds are lovely and comfortable. My 14 yr old son almost hibernated in the TV/games room with internet access, a really cool room for any teenager. Would certainly recommend this cottage for relaxing breaks away from it all.
28.12.10
Thank you for letting us stay - we loved it! So much we'd like to come back another time (if you'd have us). Thanks again.